Hosting
with a wide range of services
Data Centre
As one of the few IT solution and secure houses in the region, we can offer our customers our own data centre solutions to complement our consulting and services.
Hosting
A modern data centre has an enormous energy consumption. Thanks to Green IT from phi our customers not only save electricity, but also cash. Virtualised server systems in our data centre also protect the environment's resources. It is no longer necessary to have a large server cabinet in every company and to spend a lot of money on servicing and upgrading such systems. Hosting is worth it.
The noise level in your own house is drastically reduced and more space is created in the house for your core business. Your electricity costs are drastically reduced due to the savings on air conditioning and the high power consumption of your local server systems.
We always work with the latest technology. This applies to the data centre infrastructure as well as to the entire building technology. You can only achieve a comparable speed level yourself with a great deal of effort and economically high costs of your own.
Because you do not have to invest in hardware and software yourself, you do not incur any unforeseen costs, such as a hardware defect and the updating of your hardware.
Scalability
Our systems are fully scalable and thus always future-proof!
This means we can always configure systems to suit you directly. Instead of investing in a new server, we can scale our server cluster as required and adapt it to your needs. If more computing power is needed, additional processors are simply activated for you. The same applies to memory, if more memory is needed. If you need more data volume, this is also individually expanded within minutes. Start your Hosting!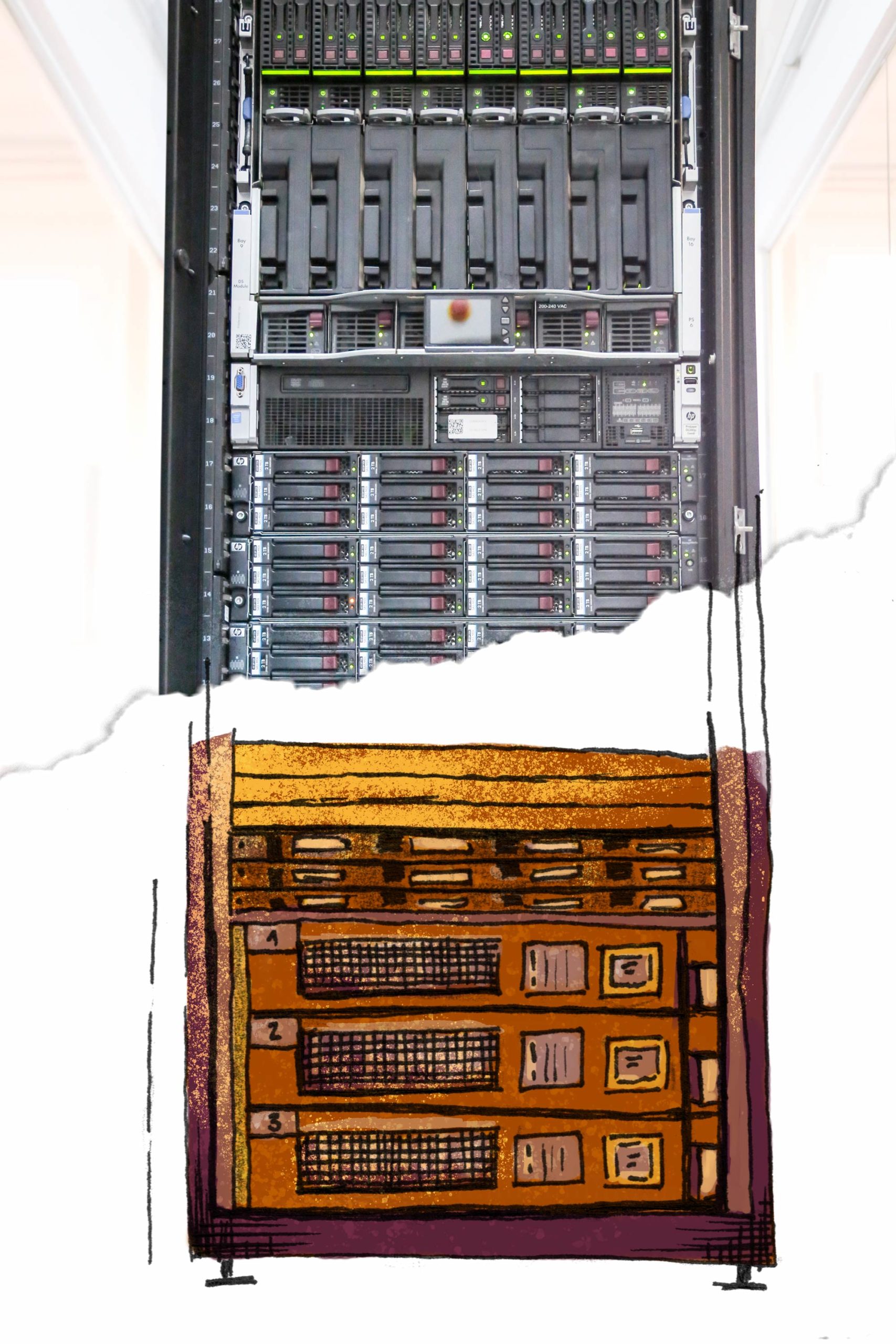 ROUNDLY CAREFREE
We create fully networked systems so you can focus on your business
Scalable
Highly scalable solutions
for fast and efficient expansion.
Hypervisor structure
Hypervisor cluster with backup nodes in the secondary data centres
4 each in high-availability clusters (continuous expansion)
1 Test Node
10 Gbit/s HA network
In the event of a hardware node failure, VMs are immediately restarted on another node.
Fault tolerance up to 4 CPU cores possible (VM is mirrored 1 to 1 on second hardware node -> uninterrupted provision of services even in case of hardware failure)
Shared FC storage available on all nodes (multipathing)
Second Autarkic test cluster
Service & Backup
100% service
for your systems and backup are a matter of course for us.
Storage infrastructure
Distributed storage infrastructure
All storage units in RAID5 configuration with HotSpare
Active monitoring of the storage units by the manufacturer
Storage Tiering (15k SAS HDDs, 7.2k SAS HDDs, NL SAS)
Full flash storage possible on customer request (requirement-defined)
16 Gbit/s FibreChannel connection of the production storages via 2 independent FC switches to 2 independent controllers per host / storage unit
Expansion with hybrid flash storage array in Q1 2017.
Redundant power supply units and connection to UPS
Backup to RAID6 storage with HotSpare (single controller SAS 6 GBIt/s) in 2nd data centre/fire compartment
Archiving on NAS RAID 5 (SAS archive HDDs) via fibre optic cable on fire compartment/data centre 
Fexible
Gain valuable resources by outsourcing your applications.
Network infrastructure
10 GbE network between hypervisor nodes
10 GbE backup network
650 Gbit/s backbone capacity
Hardware from Hewlet Packard and Cisco
Redundant meshed network
Structuring via VLANs
Own VLAN per client
Own L3 network / client
10Gbit/s customer network
WLAN radio link to customers within range possible (802.11 AC standard)
Perfect implementation when outsourcing the servers to the phi data centre. Absolutely recommendable.
Very reliable service, direct help with problems, very friendly and competent team.
Immer schneller und zuverlässiger Service, besonders wenn es eilt! Immer wieder gerne.